How I Converted my Garage to a Studio
I'm always interested in figuring out how to do things myself. It's how I ended up being a designer/illustrator. I had ideas and images in my head that I wanted to bring to life. So, early this year, my family and I were faced with a decision: what should we do about my workspace? At the time, my "office" was the 3rd bedroom in our house. It was small, but not something out of the ordinary for me. I've been making spaces work for as long as I can remember. Except now, we had something new that forced me to figure out what to do with my work space. We had a second child on the way, which meant we'd either have to move my work space or put kid #2 in kid #1's room and since kid #2 would be a newborn, that would be quite rough for 4 year old kid #1. So after much consideration, we determined that converting the garage to a studio space was cheapest and most efficient. Thus commenced my path to figure out how to construct my own workspace.
1. Sketch out a plan
I am not a wood worker or a construction person. I know my way around those tools and don't mind physical labor, especially when it comes to something that directly effects me. So, I started doing bucket loads of research and hatched a plan for what to do. As with most of my projects, the plans started off with sketches and measurements. First, I sketched out a basic idea for how my ideal workspace might fit the space in the garage. Then, I took measurements of everything (including my printer and computer) and drew out my plan in Illustrator to make sure everything would fit properly. This is typically how I do most things. I try my best to reduce the chance of unforeseen problems.
2. Fix the wall
Once all that was figured out, I started the work of converting this garage (built in 1984) to a working studio space. This started by fixing the wall my workstation would be built into. The wall needed to have a big hole sealed up, then it need to be spackled, sanded and painted. The other thing I had to fix that I didn't show is the door to the backyard. It had some serious gaps which let in cold/heat from the outside. This was a fun little exercise that made a big difference for the space.
3. Paint garage floor
The old flooring looked like it was made in 1984 because it was riddled with cracks, grease stains and all kinds of other marks. Plus, no one loves the smell of concrete in their space. After I moved everything out of the garage, I bought a DIY garage floor paint epoxy from Home Depot. This came with an acid wash that needed to be applied first to burn off the surface crap. Once that was done, I spread the epoxy over the entire floor and sprinkled those wonderful little flakes everywhere. The end result was amazing! It feels clean, it's easy to clean and it looks clean! Plus, it doesn't smell like concrete.
4. Move freezer & build shelving
Once that was done, I needed to move the freezer and build a shelving unit around it for all the stuff that used to be on the wall that I just fixed. This actually worked out great because it gave us better organization for our food supplies.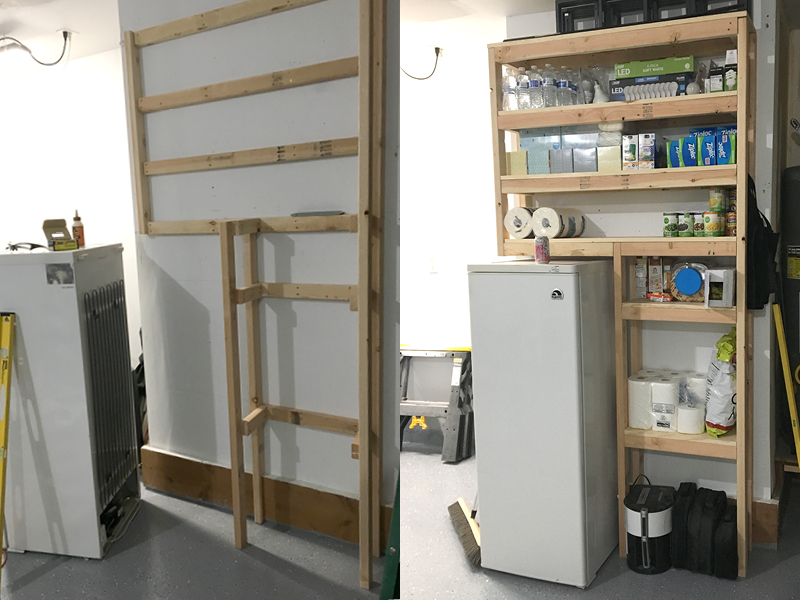 5. Build that workspace
Now is the moment this whole plan was waiting for. Building my planned workspace. After multiple trips to Home Depot, I had all the supplies I needed, so I started measuring, cutting and assembling my work station. The desk is built entirely using melamine wood from Home Depot. Since it has a nice plastic coating, it makes for easy cleanup and it looks nice and clean all the time. The only thing I didn't account for was the fact that my garage floor and wall was not level or straight. So I had to fudge the details a bit to get everything to work just right.
6. Decoration time!
Once everything was constructed, I started moving my equipment to the work space. I was so eager for this part. Then I added shelving and my beloved music posters, toys, books, CDs (yep, I still got em) and art supplies. I love organizing and setting things up. It's such a good feeling to have things done properly.
7. Minor additions
Since the major parts were taken care of, I slowed down to focus on work related things and upcoming baby related things. Over the next month or so, I added rugs from IKEA, additional shelving and rearranged the space opposite of my work station. I have some additional plans to fill out the space later on down the road, but after 2 months of weekend work, the space is considered done.
I gotta say, it feels so nice to finally (for the first time EVER) have ALL of my equipment, art supplies, work station, books, etc. in one space designed for all the work I do. The studio (no longer a garage) also works great for kid #1 when she wants to play, make a mess or do art. Often times I bring the newborn out here, turn down the lights and crank up some nice soft music to calm her and put her to sleep. It's turned into a great shared space for the family with a positive and inspirational vibe for everyone.